Embarrassed by unsightly calluses on your feet? Easily and painlessly remove them with HeelPro electric foot file. It's one of the must-have foot care products you need!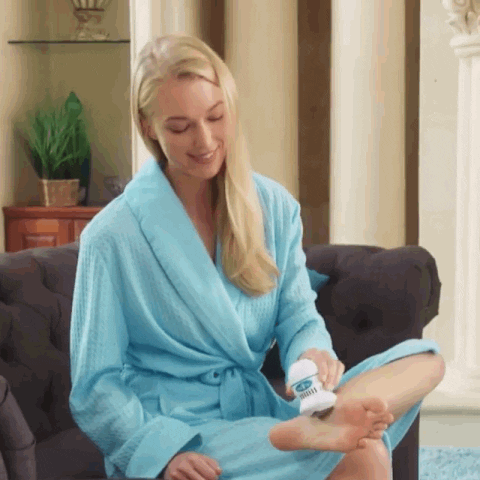 Forget the Mess
Other foot files leave behind huge messes. HeelPro is the only motorized callus remover with unique dream vac technology that sucks up those dead skin shavings WHILE you use it.
Pedicure-Worthy Feet, Without the Salon
Not much in life is more relaxing than a good pedicure. But, those salon visits are expensive to maintain. With HeelPro, you'll no longer have to suffer dry, cracked heels in between visits. Now you can have pedicure-worthy feet whenever you want.
Soft, Sexy Feet Anywhere
The rechargeable battery lets you use HeelPro anywhere. Take it in the car for sandal-ready feet at the beach or to the office to touch up cracked heels in between meetings.
High-Powered Yet Gentle
The high-powered micro-abrasion head makes HeelPro the ultimate foot exfoliator. The head spins at over 2000 rpm to remove calluses while buffing and polishing skin.
HeelPro erases stubborn calluses in seconds. There' no clean-up because the built-in vacuum sucks up all of the dust and powder shavings. The electric callus remover has a nano abrasion head spins at over 2,000 RPMs for fast, clean results. Imagine removing those nasty foot calluses in seconds when and where you want! Looking for a way to get rid of calluses on hands? HeelPro is the perfect solution. With two speed settings, you can adjust the filing intensity to your needs. Use the emery board pads to remove calluses and dry skin, then buff skin baby soft with the buffing pads. Now you can give yourself a mess-free pedicure anywhere you like. Get the soft, sexy skin you deserve with HeelPro!
Beautiful Skin Without the Damage
A regular foot file grates and damages skin, causing pain and discomfort. HeelPro removes uncomfortable calluses smooths cracked heels without damaging your feet!
How do you turn on a pedi vac?
Turn on Pedi Vac™ by holding down the power button for 2 seconds (Figure F). NOTE: The LED light will illuminate green when unit is in low speed mode. To achieve high speed, click the power button again and the LED light will change to solid red. To turn off Pedi Vac™ hold down the power button until light turns off.
Should I use Pedi vac on wet or dry feet?
No, feet should not be soaked in a footbath before the application of Pedi vac electronic Foot File. If the hard skin is soft and swollen by the footbath, then there is a possibility that the hard skin cannot be completely removed.
Do you wash your feet after a foot peel?
Yes, after completing the treatment rinse your feet thoroughly. Remember, don't apply lotion to your feet until the peeling process is complete. If your feet are too dry, you may use an oil-free moisturizer from time to time.